Sports floors differ immensely from floors designs for any other purpose. Because the needs of athletes come first, performance, safety and comfort inherent characteristics. Floor design can focus on a specific activity such as: Aerobics versus basketball, or handball, squash and racquet ball courts; health and fitness clubs; gymnasiums used for multi-purposes; international Olympic facilities; professional sports arenas; dance floors; auditorium and convention centers; schools, colleges, and universities; YMCA/YWCA's; theater & stage performance areas; and many commercial, industrial, and residential applications.

Time and time again, athletes, performers, trainers, coaches, owners, and architects who design these facilities cite maple as the preferred sports surface. Of all the US sports floors ( 17 million square feet-installed each year) maple is the sports floor of choice. Athletic performance is enhanced by its hard-but-resilient character. Subfloor systems enhance maple's natural shock absorption and area elasticity. In addition to the surface providing dependable uniform grip and traction to athletic footwear. safety is vastly enhanced by these same characteristics as seen by a study showing athletes were 70% more likely to sustain a floor-related injury on a synthetic floor than on a maple floor. (See Incidence of Sports Injuries- further down this page)
Maple (Northern Hard) was used in sports floors more than 150 years ago. From the beginning the mission was to create "natures perfect flooring". A handful of producers formed the Maple Manufacturers Association (MFMA) in 1897. The purpose was to research and develop the best procedures for the selection and grading of this wood product. Over time a set of strict manufacturing standards evolved. This association would soon become the authoritative source of technical and general information on sports floors. They also included in there self-imposed standard, the correct installation and maintenance procedures to help this product live up to it's promise and standards previously set forth. Thus the sports floor story now has become a part of our lives, our day to day association with sports activities, and thus a part of our sports history.
Grading Rules & Quality Standards
:
As the trade association setting the standard (MFMA) has set painstakingly set forth and followed grading rules and quality standards in the production of each strip of flooring. It assures the wood has been kiln dried to 6% - 9% moisture content which makes it dimensionally stable before manufacturing begins. This ensures the finished product will be milled to consistent exact tolerances as mandated by this organization (MFMA).
Grading Guide
:
First Grade
: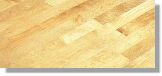 The highest grade - an extremely durable and desirable floor for many installation applications; including but not limited to gymnasiums, basketball, handball, and racquet ball courts among other common uses such as public areas, dance floors, home and many other applications where fine appearance and long wear are desired. The face is practically defect free. Strip lengths 9" to 8 ft.; not more than 55% of total footage will be in bundles under 4 ft.; not more than 25% will be in 2 ft. bundles.
More...